Name: Tillie
Breed: Beagle
Gender: Female
Age: 9 Years Old
Location: Los Angeles Area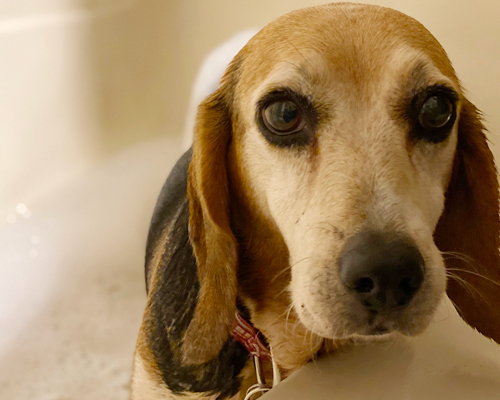 Hiya! I'm Tillie,
Can you imagine being locked in a cage, looking at the same walls, for 9 years straight? It was definitely difficult, and I still can't believe I lived through it. There were a lot of sleepless nights and tons of fear, but I stayed optimistic! And eventually, that optimism paid off—I am an animal testing survivor!
I'm free! Living in a cage was all I ever knew, but man, I must say, freedom is pretty great! I love running around my new backyard, playing with all the toys imaginable, and exploring on walks! I pick up on tricks and training pretty fast so people tell me I'm pretty smart! I also LOVE to cuddle! Cuddling's my favorite! Knowing someone loves me is all I need. If you're looking for a cuddle buddy and someone to love you unconditionally, I'm your gal!