Name: Rory
Breed: Beagle
Gender: Male
Age: 8 Years Old
Location: Los Angeles Area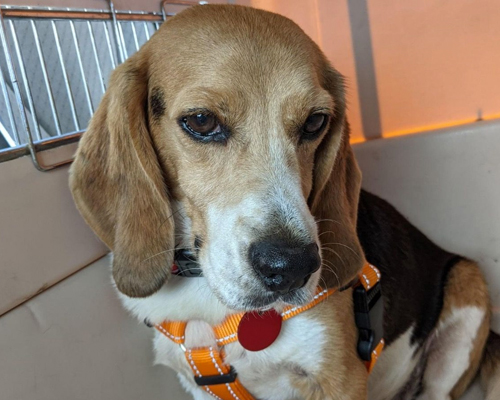 Hi, it's me Rory!
I've had a pretty rough 8 years. I spent my whole life locked up in a cage—seeing the same walls, constantly living in fear, and most of all, never experiencing a gentle touch. My life was in the hands of the laboratory facility and they did a lot of unimaginable things to me and my friends, but I'm finally starting to put that behind me! How can I put such horrible things behind me so fast, you ask?
The answer is simple: I'm free!!! A few weeks ago, I left that horrible place and have been living in a nice, cozy, and dog friendly home ever since. I never knew how fun toys are and how amazing it is to run free and play with other dogs! I even discovered mirrors—and I must say, I'm pretty darn handsome!
People say I'm a daily dose of hope and happiness. So, if you're ready to make the best decision of your life, I'll be right here waiting for you!