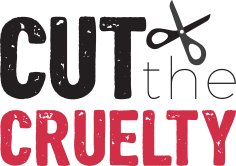 BFP's "Cut the Cruelty" program exposes companies with cruel practices and empowers the public to go cruelty-free and support humane businesses.
BFP has always been at the forefront of positive, compassionate change. This includes helping people seamlessly incorporate animal outreach, fostering and adoption, and innovation, like our Cruelty Cutter app into your daily life. BFP makes it easy to be involved whether you have a little or a lot of time.
Check out our current program below. We will be adding more exposés and victories, so check back often!
CUT THE CRUELTY PETSMART!
Watch and share our Cut the Cruelty video, exposing PetSmart for their cruel ties to animal testing.
PetSmart sells toys, treats and merchandise from Marshall Pet Products, a cruel company owned by Marshall BioResources, one of the largest breeding facilities for animal testing!
The aerial video shows row after row of windowless buildings where Marshall BioResources breeds beagles, hounds/mongrels, minipigs, cats, ferrets, mice and guinea pigs BY THE THOUSANDS and sells them worldwide to animal testing facilities.
Contact PetSmart today!
Call: 888-839-9638
Email: customercare@petsmart.com
Comment on social media as well! Twitter, Facebook and Instagram
Marshall Pet Products EXPOSED!
Our first investigation is Marshall's Pet Products, and they have a cruel secret.
This pet and merchandise retailer which sells toys, food, and animal care products, also has a nefarious partner company, Marshall BioResources, which is one of the largest U.S. suppliers of animals to research labs.
When we buy products for our animals, we assume the company who makes or sells the product also cares about animals, just like us. Marshall Pet Products' inhumane business practices lure animal-loving consumers who buy Marshall brand toys and products into unwittingly also supporting their breeding facility.
Marshall BioResources has been cited by the USDA for Animal Welfare Act violations and their practices and puppy-mill-like conditions are reprehensible. A Marshall representative described their unscrupulous breeding this way: "We will breed anything a lab wants. If they want a dog with 3 legs or an abnormally large heart, we can do it."
BFP brought this information to retailers who sell Marshall Pet Products and many were shocked and immediately removed Marshall Pet Products from their inventory, including one of the largest online retailers in the world: Overstock.com
We are now urging other major retailers like Petco, Petsmart, Chewy.com, and others, to take a stand and make the right decision to remove these cruel products from their shelves.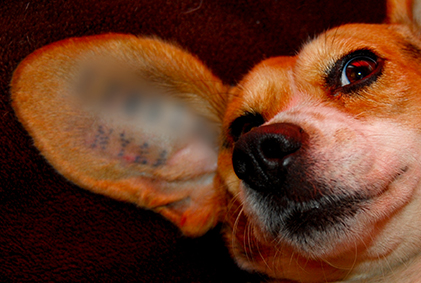 The majority of dogs used in laboratory experimentation come from breeders who mass produce puppies specifically to sell to labs. Located in North Rose, NY, Marshall BioResources (formerly Marshall Farms) is one of the largest U.S. commercial breeding facilities. Marshall breeds beagles, hounds/mongrels, minipigs, cats, ferrets, mice and guinea pigs for sale to research labs globally."
Most of the dogs BFP has rescued from labs come from Marshall, just like the dog in this photo we rescued.
BFP learned that Marshall Pet Products is one in the same with Marshall BioResources, sharing the same
executives and reporting the same annual revenue - over 11.6 billion dollars!
Previous USDA inspections found:
Inadequate veterinary care and health monitoring
A dead puppy kept in a refrigerator used to store drugs
Dogs with obvious injuries and medical conditions
A semi-conscious and shaking newborn puppy and a dehydrated puppy who had to be euthanized
Puppies euthanized and necropsied in front of hospitalized puppies
(USDA. APHIS Inspection Report. 14 Feb 2006; USDA. APHIS Inspection Report. 15 Mar 2006.)
These are just some of the many violations Marshall has been cited for in the past.
TAKE ACTION!
Never buy Marshall Pet Products and if you see their merchandise while shopping, tell the manager about their dirty secret and urge them to replace these items with other products from a more compassionate company. If you see ferrets for sale, ask about the supplier and urge them to sever ties with Marshall Pet Products.
You can also text to thank Overstock customer care at: 385-257-9241
Stay tuned for more ways you can Cut the Cruelty with BFP!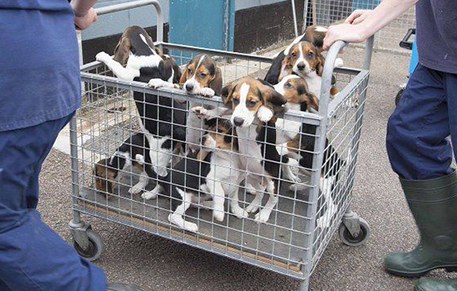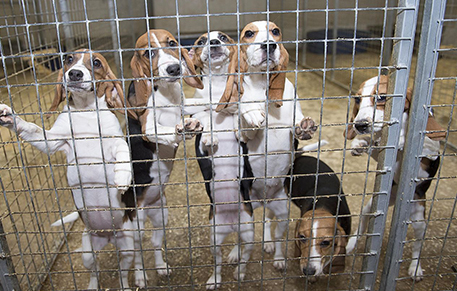 The exterior of animal housing at Marshall BioResources.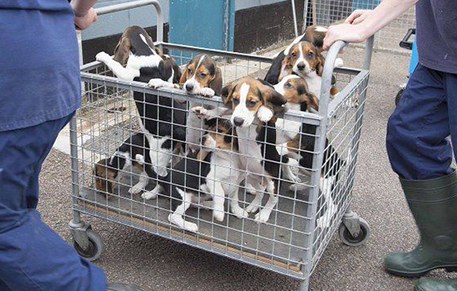 *Example photo of beagles being bred at a facility.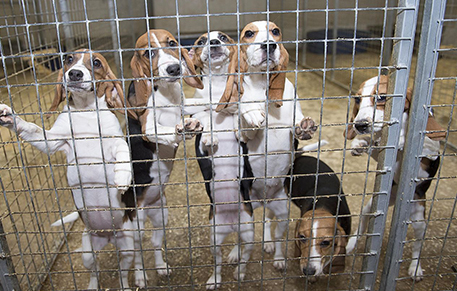 *Example photo of beagles being bred at a facility.