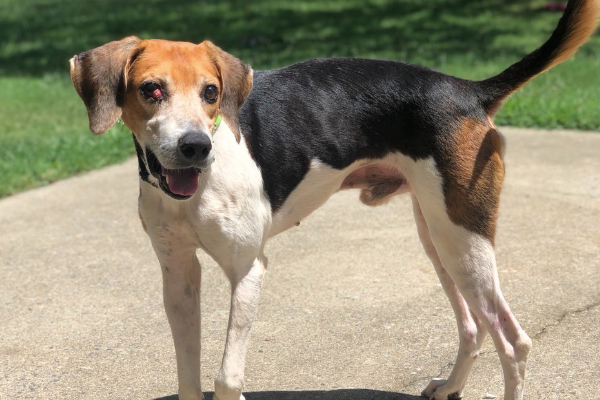 Honey is a part of our Save our Seniors Program! For more information go to: SOS
Honey was found as a stray, terribly emaciated and suffering an eye infection and cherry eye when he was brought to the shelter.
When we rescued Honey, we learned this beautiful Treeing Walker Coonhound is also blind, has glaucoma in both eyes, tested positive for heartworms,
and is suffering from severe dental disease with one tooth having a very painful exposed root.
Since his freedom ride to his foster home, Honey has already improved:
He's gained weight and his eye infection cleared up!
He'll soon have dental surgery for his painful exposed root, and when he's recovered from that, Honey will start heartworm treatment.
The vet recommends Honey's one eye be removed as soon as he's through with his heartworm treatment.
Honey has a long road ahead of him, but at about nine years old, this happy, goofy, loving and sweet boy has already come so far, we know he can go the distance.