Name: Damon
Breed: Beagle
Gender: Male
Age: 9 Years Old
Location: Los Angeles area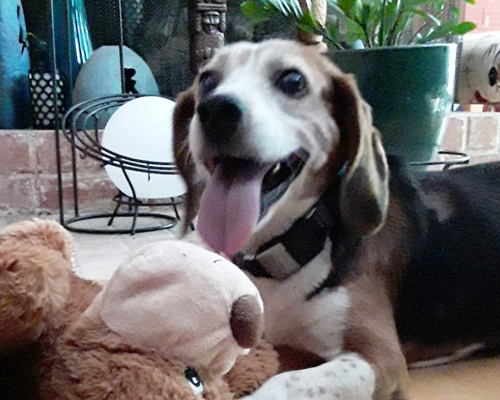 Damon is my name and I think I was destined for another life….
In this life I've had it pretty rough. Animal testing, confinement, and whole bunch of fear and sleepless nights – for me and my buddies. I was pretty grumpy. I was pretty sad underneath the grumpiness too.
We got out though and I tell you, I never saw it coming! Next thing I know people are caring for me and I'm dreaming of all the things I could do and see. So for starters I like to look at my reflection, I'm pretty darn handsome I must say – don't you think?
I like to take all things in, not just my reflection!!! I love looking up at the sky and seeing the airplanes, I follow them as far as I can see – I think it's because I used to spend my time thinking about escape. AND the TV, how I love watching the Olympics – especially the horses, I love the horses.
Anyway enough about me, what about you. What do you like to dream about?
I'd love to hear!!!